Gemsetter lets you create eye-popping fashions in just seconds. Now you can add sparkle to almost anything ! You can create a masterpiece in just minutes... create your own designs or use one of the Gemsetter patterns to make hundreds of fashions that will look great, and amaze you, your friends and your whole family!
Free shipping on orders over 50 € *
France and Corsica only
Other categories
€29.98

Promotion: €11.99
60% discount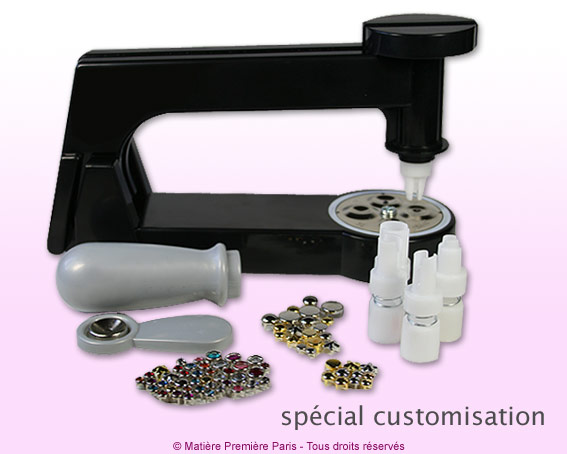 • Les accessoires :


Les strass Swarovski

La Customisation à la portée de tous.

Customisez en quelques minutes à l'aide de nos patrons ou créez vos propres modèles, et transformez vos vêtements ou objets favoris en pièces uniques.

Donnez un look personnel à vos jeans, t-shirts, ceintures, chaussures, sacs à main, ainsi qu'à tous les objets de la maison tels que coussins, sets de table, rideaux, abat-jour, bougies, etc…

Très pratique également pour le Scrapboocking, sur les albums photos, cartes de vœux etc…

Il est livré avec un assortiment de 300 strass et clous métalliques, 300 modèles, un crayon pour dessiner les modèles, une notice d'utilisation, ainsi qu'un petit livre de 60 photos d'idées faciles à réaliser.

Il permet d'utiliser des strass et clous de :
20 (5 mm), 30 (6.5 mm), 34 (7 mm), 40 (8.5 mm)
ou 60 (14.5 mm).

En bonus il est livré avec un accessoire qui vous permet d'atteindre les endroits les plus difficiles, et aussi de retirer les strass déjà positionnés pour les réutiliser ailleurs.
•

Quelques idées originales de réalisation :
© Matière Première Paris - Tous droits réservés -